Arizona's Original Farm-To-Table Dining Experience
Dining at Quiessence is unlike any other culinary experience in Arizona. As you stroll up to the original farmhouse on the property, you see the lush and vibrant Soil & Seed Garden at The Farm, where the fresh ingredients for your evening's dishes have been sourced for refined, rustic menus that change with each harvest. Above all, the vibrant flavors of the Arizona terroir shine through each dish. The unique layering of flavors comes from a cornucopia of local ingredients, including delicious vegetables, herbs, and edible flowers from our on-site garden, fruit from our grove of more than 60 trees, eggs from our chicken coop, fresh breads from our Le Panyol oven, and meats and cheeses from other local farmers and purveyors.
From the first sip of a craft cocktail to the simple pleasures of our desserts, it's a truly authentic farm-to-table experience.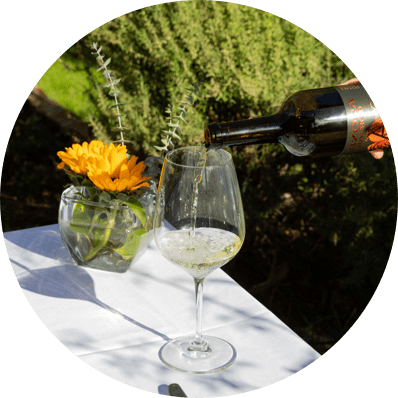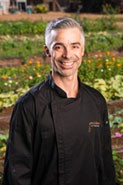 Dustin Christofolo
Executive Chef/Co-Owner
As executive chef and co-owner of Quiessence at The Farm, Chef Dustin Christofolo's culinary roots run deep. His inspiration for specialty handcrafted pastas, house-cured meats, and unique layering of flavors all begin with the exceptional ingredients harvested from Soil & Seed Garden.
Each season, Chef Dustin curates each row and oversees the seasonal bounty. His partnership with local farmers and purveyors complements the Soil & Seed Garden harvests for his authentic Arizona farm-to-table menus.
Chef Dustin has also produced a world-class wine program, recognized by Wine Spectator, to perfectly match his refined rustic menu at Quiessence. His passion for local and seasonal food was acknowledged with an invitation to cook at the James Beard House in spring 2016 and the James Beard Foundation Taste America: Phoenix event in 2017. Quiessence at The Farm has been awarded a 4.5-star review from Arizona Republic Dining Critic, an excellent review by PHOENIX Magazine food critic, and has been named as one of the "Most Romantic" restaurants in the U.S. Quiessence's most recent accolades include OpenTable Diner's Choice Awards, TripAdvisor Certificate of Excellence, Wine Spectator Award of Excellence, and AAA Four Diamond Award.
Chef Dustin is a graduate of the Italian Culinary Academy in New York City and the culinary program at La Scuola Internazionale di Cucina Italiana in Parma, Italy. He is also a graduate of the Wine Immersion Program at the Culinary Institute of America in Napa Valley, California.