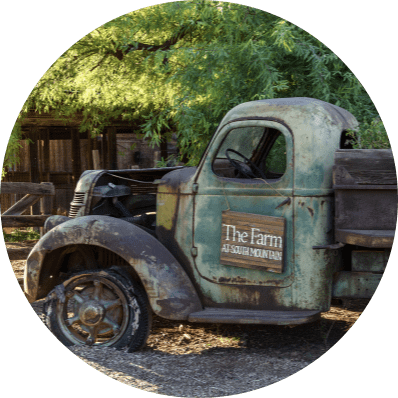 Getting To The Farm
Quiessence is conveniently located at The Farm at South Mountain, a beautiful 10-acre working farm that proudly calls Phoenix, Arizona home. Located just south of Southern Avenue on the west side of 32nd Street, The Farm at South Mountain is in the charming area of the South Mountain Village known as The Farm District. Minutes from downtown Phoenix, Quiessence is just a short drive south from the I-10 freeway and easily accessible no matter which direction you are coming from. To view Google Maps directions, click here.
Reservations
Reservations are highly recommended to ensure a dining experience at Quiessence. We cannot guarantee a seating without a reservation.
Cancellation Policy
Due to the local, seasonal, and handcrafted nature of the Quiessence dining experience we harvest, order, prep and staff the restaurant according to the number of reservations booked. Quiessence requires a credit card to hold your reservation. If you need to cancel your reservation for any reason, please do so at least 36 hours in advance to avoid a charge of $25 per person.
Child Policy
Due to the length of the meal and quiet ambiance of the dining room, we do not suggest young children attend dinner unless they are able to enjoy a tasting menu and remain comfortable in their seats . Quiessence does not offer a "kid's menu." Many guests are celebrating a special occasion and look forward to a relaxing, uninterrupted evening. Thank you for understanding.
Map
When arriving at The Farm, drive all the way to the end of the lane. You will then park in our roundabout parking area. See our map to view parking and help guide you through The Farm to Quiessence!